Cultural Resources Recorded in Preparation for Construction of New Intermodal Rail Terminal
Chronicle Heritage completed architectural documentation and archaeological data recovery for six Postbellum sites in eastern North Carolina. The project's findings gave key historic context into traditional Southern culture, farming, food production and storage, tools, operations, cohabitation, and community life.
In 2016, CSX Transportation, Inc. (CSXT) began acquiring land for the construction of a new intermodal rail terminal along an existing track in Battleboro, North Carolina, approximately seven miles north of Rocky Mount. They chose property containing several old farmhouses and outbuildings surviving from the late nineteenth century and learned that the farm had been recommended for the National Register of Historic Places in 1998.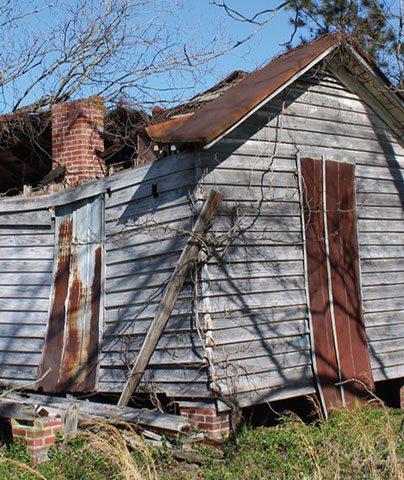 The rural and agrarian character of Odom-Cooper-Flye Farm (the farm), on the western border of Edgecombe County, had remained largely unchanged since the mid-nineteenth century. Because the construction of the new Carolina Connector Intermodal Rail Terminal, or CCX project, would damage or destroy existing cultural resources within the farm (both archaeological sites and historic architecture), CSXT fulfilled certain federal requirements under the National Historic Preservation Act before beginning construction.
Between 2016 and 2021, cultural resources investigations conducted on behalf of the CCX project revealed the lifeways and practices of the farm's residents through archival research, archaeological excavations, and architectural survey and photo documentation.