CSS Georgia, Savannah Harbor Expansion Archaeological Data Recovery and Mitigation
Project Overview
USACE, Savannah District, in partnership with the Georgia Ports Authority, is proposing to expand the Savannah Harbor navigation channel on the Savannah River. As designed, the Savannah Harbor Expansion Project (SHEP) will consist of deepening and widening various portions of the harbor.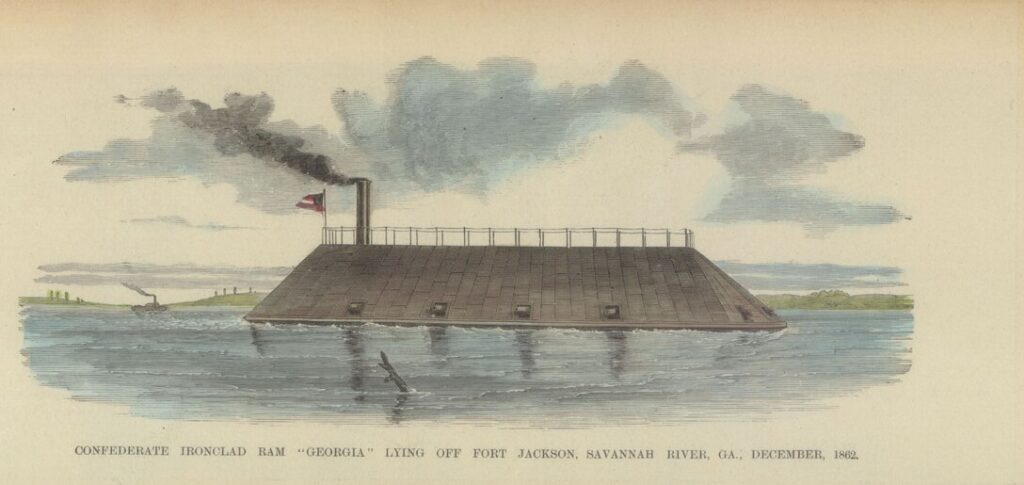 Previous surveys identified the remains of the CSS Georgia, a Civil War ironclad-ram within the APE, and as proposed, the SHEP would adversely affect this NRHP-listed site. In 2015, and under subcontract to DCA/GEC, A Joint Venture, LLC for the Savannah District, the remains of the CSS Georgia were fully archaeologically documented and systematically recovered by PanAmerican Consultants, Inc., now part of Chronicle Heritage, in concert with the U.S. Navy, Supervisor of Salvage and the U.S. Navy's Mobile Diving Salvage Unit 2.
As part of the 2015 recovery efforts, Chronicle Heritage fielded and directed an underwater archaeological dive team that initially mapped the site for five months using a surface-supplied air diving system and an ultra-short baseline (USBL) diver tracking system, both of which were integral to the success of the project. Under the archaeological supervision of Principal Investigator Stephen James and Co-PI Dr. Gordon Watts with Tidewater Atlantic Research, they then interfaced with U.S. Navy divers and helped direct the subsequent three-month recovery of ordnance, large artifacts and casemate, as well as operating the diver tracking system.
Chronicle Heritage then fielded and directed a team of 24 archaeologists during the six-week mechanized recovery phase of the project that recovered thousands of artifacts working on two crane barges. Personnel with Conservation Research Laboratory at Texas A&M University were present during all phases doing on-site artifact conservation, provenience and accession assignment and are currently responsible for all artifact conservation. 29,718 artifacts were recovered, with 13,021 artifacts weighing 140 tons shipped to the Conservation Research Laboratory for conservation, and 16,697 artifacts weighing 125 tons were reburied.
Diving was again conducted by Chronicle Heritage as well as a Remote Sensing (side-scan sonar) survey to ensure artifact clearance of the sight. Chronicle Heritage also surveyed and located a reburial location and directed reburial of numerous artifact and casemate fragments not suitable for conservation and curation. In the summer of 2017 the East and West Casemate sections were recovered and additional mechanized clearing was conducted withChronicle Heritage again performing diving investigations from two crane barges and conducting remote sensing survey.